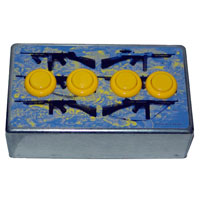 The Super Switcher SS-1 is no longer in production.
The
Audible Disease Super Switcher SS-1
is a handy four independent channel switching device. You can set it up so that sound is cut-off between the input and output jacks by pressing the corresponding button or configure it so that the sound is engaged by pressing the button. The function of each of the buttons are easily changed by removing the bottom panel and moving the quick-disconnect to the other terminal on the switch. You can configure each switch independently too! The buttons are super-heavy duty as they are originally designed for arcade games.
MSRP: $223.00 (USD)

Top view of the Super Switcher SS-1
(312 kb jpg)

Back view of the Super Switcher SS-1
(273 kb jpg)

Angled view of the Super Switcher SS-1
(416 kb jpg)